Inflatable Birthday Cake Game
A fun game for all the family. The first one to add the points up to their age wins. Adults, this might take you a while!
Yoga Socks
Apparently these socks are helpful if you're into yoga... we just think they look like mittens for your feet!
Flying Alarm Clock
Ever woken up and felt like you were flying? Nope, us neither! Now you can with this flying alarm clock. Warning: it could hit you in the head.

Laser Scissors
These scissors are an essential for those who are not naturally gifted at gliding scissors through the wrapping paper.
Creative Baby Pacifier
Is talking to your baby like pulling teeth? Give them one of these pacifiers to make them seem more interested than they actually are!
Banana Bottle Stopper
An apeeling bottle stopper for any wine, or banana, lovers out there. Wine not included, unfortunately.

Bouncing Shoes
Walking is overrated, try bouncing instead! Perfect for hopping over the crowds on an early morning commute.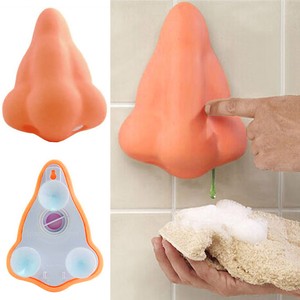 Nose Soap Dispenser
What's snot to love about this soap dispenser? The greener your soap is, the better this will look!
F*** You Hoodie
If you're an English Teacher maybe don't wear this one to school to save yourself from any awkward explanations.
Got a cool, cheap or crazy product find of your own? Submit it to social@baopals.com for a chance for it to be featured in our next CCC as a Customer Find! If we choose to feature your submission, you'll be the lucky recipient of a 50 RMB voucher.