Welcome to Baopals! If you're reading this, you're probably looking forward to being able to independently order whatever you need right to your home without having to ask your Chinese friends for help. Baopals is here to provide you access to over 1 billion products from Taobao and Tmall and will be there to assist you every step of the way!
GETTING STARTED
To create an account, select "Sign In" on the upper righthand corner of the homepage and click on "Create An Account". Or, on your mobile phone, click the "hamburger" icon at the top left to open up the navigation menu.
From here, you can enter in all of your information, and set your account password. Please use at least one capital letter, one lowercase letter, and one number in your password. Click "Submit" when you're done!
Once you're signed in, get familiar with your personal navigation menus, where you can easily access your account, your orders, and your profile. Look to the upper righthand corner of your screen, where your name is displayed. Click on your name and select "My Settings" from the dropdown menu.
On your mobile phone, open up the hamburger menu once again and click on the circle above your name - this will show your photo once you've uploaded one to your profile. Here you can also access your profile, orders, and account page.
Now is a good time to add your delivery address. Click "create a new one" to get started! You can enter your address in Chinese or English (and our team will translate it for the sellers). All  sellers on Baopals ship directly to you, and you can track your delivery updates in English from your orders page. Feel free to add more than one address if you'd like your packages to ship to your office or send a gift to a friend!
START SHOPPING
Now that you've got your account set up and entered in your delivery address, you're ready to start shopping! You can browse our many departments to find what you are looking for, or try searching for a specific product. We have thousands of search suggestions to help you find exactly what you are looking for. You can also browse by seller location and switch your searches to Tmall Sellers for licensed brands as well as more sorting and filtering options. Feel free to use the Q&A section on any product if you'd like to know more before purchasing.
Shop Baopals Supermarket for super fast consolidated shipping and the best selection and prices you can find on all kinds of food, daily goods, appliances and more!
PLACING AN ORDER
When you are ready to make a purchase, add the item to your cart by selecting "Add to Cart" while viewing a product. You can then view your cart by clicking on "Cart" in the upper righthand corner of your screen. To checkout, select "Go to Checkout".
If you would like to add different products from the same product listing to your cart, please select them and add them to your cart separately. You are not required to pay an extra shipping fee (if there is one) for multiple orders from the same seller.
Select your preferred payment method, and then click on "Place Order" to complete your payment. You've successfully made your first purchase on Baopals!
AFTER SALES SERVICE
Baopals makes it easy for you to contact the Baopals team if you have any comments or concerns about your order. Simply navigate to your orders page and click Need Help? when you hover over the order you'd like to inquire about. You'll then be directed to our handy Request Form.
SHOP BAOPALS ON WECHAT
You can shop directly through the Baopals Official WeChat account, which gives you quick access to the platform and weekly product recommendations.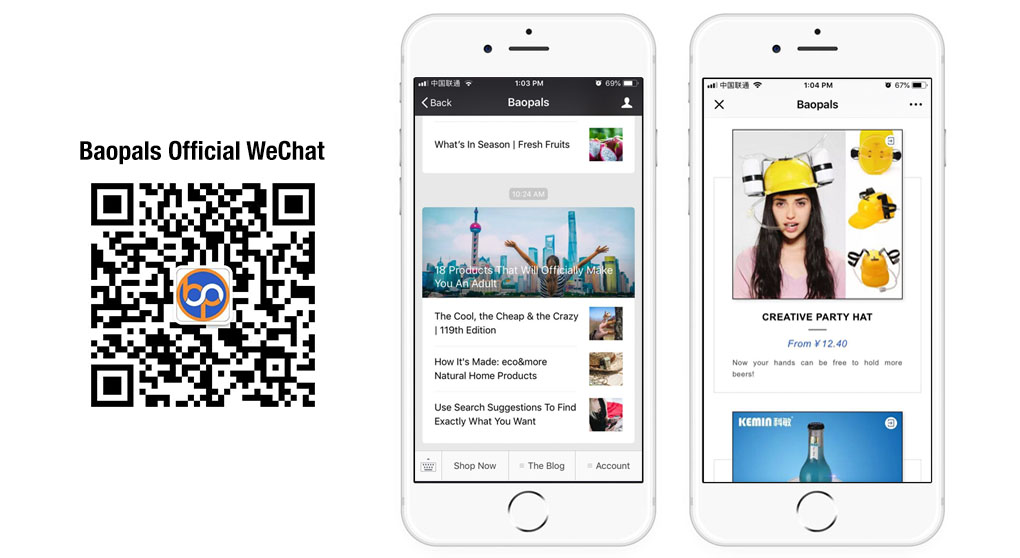 And there you have it! Your pals at Baopals are always happy to help, and feel free to contact us at any time if you need assistance! If you have any general inquiries, please contact us by e-mail at support@baopals.com.