Do you find trying new recipes a little daunting? These delicious recipes only need 5 common ingredients (provided you have salt, pepper and olive oil at hand)! If you like this type of recipe, Jamie Oliver has an entire book of 5 ingredient meals.
There are many different ways to make Shakshuka, but in essence it is a heavenly tomato and bell pepper mix in which you poach eggs. Here is the most basic recipe, but you can add anything you want e.g. olives, artichoke hearts, spicy peppers or seasonal vegetables. The most delicious thing to do is sprinkle feta cheese on top!
Ingredients for 2 portions:
1 bell pepper, finely sliced
2 400g tins of chopped or whole tomatoes
1 onion, finely sliced
4 eggs (or however many you can fit)
1 small bunch of parsley (or coriander)
Method:
Fry the onion and peppers in a pan with a little olive oil on medium heat until the onion becomes translucent (maybe 5 minutes).
Add the tomatoes and stir until the mixture boils and starts to thicken. Season to taste with salt and pepper. You can add other spices you like (cumin and paprika work well).
Form small holes with a spoon or spatula (can be a bit tricky), and then carefully crack the eggs into them.
Reduce the heat to low, then place the lid on top and wait for the eggs to be done (ca. 10 minutes for soft eggs).
Sprinkle the parsley on top to serve. Yum!
This tasty curry is quick to make and can be as spicy as you want. You can add or substitute in other vegetables if you don't have spinach or tofu on hand, for example broccoli or zucchini.
Ingredients for 2 portions:
200 g chickpeas, drained
1 onion
100g of firm tofu
200 g fresh spinach
2 tablespoons of your preferred curry paste
Method:
Dice the tofu with a dash of olive oil and fry in a large, non-stick frying pan over medium heat for 2 minutes.
Slice the onions and add to the pan and fry until the onions soften.
Add the curry paste and drained chickpeas.
Cook for 7 minutes, stirring regularly.
Add the spinach until it wilts and the liquid evaporates. Season to taste.
Serve with bread or rice, or just enjoy as it is!
Fresh Zucchini & Tortellini Salad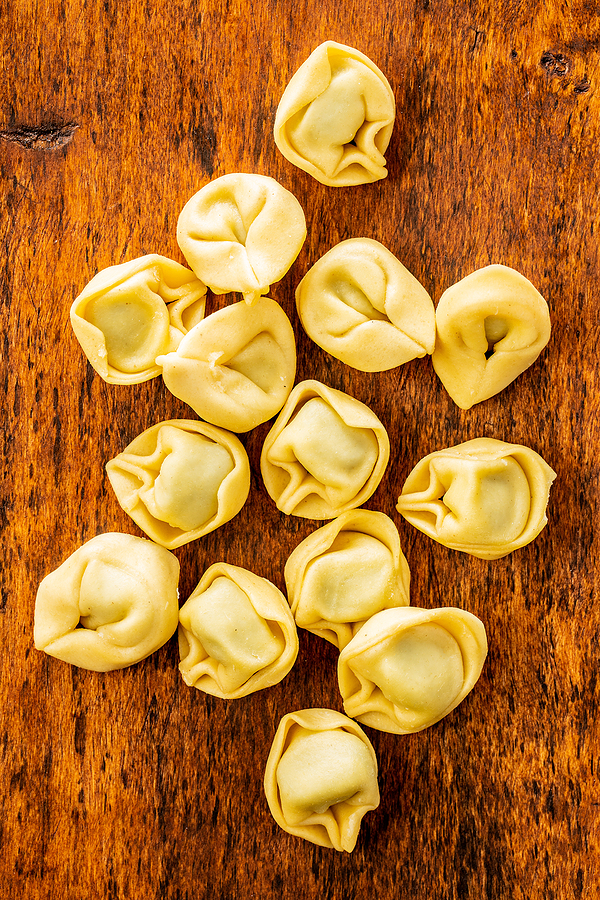 With its fresh taste, this salad is a fabulous summertime lunch. Well, technically it is called a salad, but you sneak in some tortellini to make it a whole meal. This recipe is adapted from CookingLight; have a look on their website for a quick and easy video to make their version of this recipe.
Ingredients for 2 portions:
150g cherry tomatoes, quartered
250g tortellini (mushroom or cheese filling)
2 large zucchini
1 garlic clove, finely chopped
The juice of 1 lemon
Method:
Cook the tortellini according to the instructions. Drain them and place them in a large bowl.
Mix the quartered cherry tomatoes in with the hot tortellini.
Peel the zucchini into ribbons with a potato peeler.
In a large pan, heat 1 tablespoon of olive oil and the chopped garlic at medium heat, then fry the zucchini ribbons for approx. 2 minutes.
Add the fried zucchini to the tortellini mixture.
Mix the lemon juice with 1 tsp of pepper, 1 tsp of salt and tbs of olive oil to make a dressing. Toss into the bowl with the rest of the ingredients. Enjoy!
Halloumi & Couscous Stuffed Peppers
Stuffed peppers are delicious, look great as a dinner party dish, and are surprisingly easy to make! (Sorry, there are technically 6 ingredients.)
Ingredients for 4 stuffed peppers:
250g halloumi
4 large peppers
50g dry couscous
200g black olives
1 large tomato
100ml vegetable stock
Method:
Preheat the oven to 200°C. Half the peppers and scoop out the seeds. Place the peppers on a baking tray with a baking sheet. Use the oil from the jar of onions and dribble a little over the peppers (or if the olives you're using don't come in a jar, use olive oil). Season with salt and pepper, then bake for 20-25 minutes.
Cut the halloumi and tomato into cubes and halve the olives.
Mix the couscous with the vegetable stock and leave it to soak until it is expanded. Fluff it up with a fork and stir in the halloumi, tomato and olives.
Spoon the mix into the pepper halves and return to the oven for another 15 minutes.
Serve hot with ciabatta bread, salad or as a side dish for any other meal!
Making your own granola bars helps you save money and lets you add as many chocolate chips as you want. Also, no-bake granola bars rely on nut butter and honey to stick together, which makes them less dry and crumbly.
Ingredients
2 cups oats
1 cup rice crispy cereal
1 cup mixed nuts and dried fruit
1 cup peanut butter (or other kind of nut butter)
1/3 cup honey (or maple/agave syrup)
1 tsp cinnamon (optional)
Method:
Line a large square casserole dish or baking tray with baking paper.
Combine the dry ingredients in a large bowl. Slowly add the honey and nut butter and mix with a wooden spoon.
If it is too dry, add more peanut butter. If it is too wet, add more oats.
Transfer to the dish and make a flat surface. Ensure you really press down hard to make the mixture nice and compact.
Chill in fridge for 1 hour, then cut into squares. Keep refrigerated.