A new coronavirus originating in Wuhan has caused much concern throughout China and the rest of the world. The primary symptoms of the virus are a dry cough, fever and breathing problems. In severe cases, an infected individual can develop pneumonia from it. There are two types of pneumonia, bacterial and viral. If you have bacterial pneumonia, you can be treated with antibiotics, and if you have viral pneumonia the treatment is more generic: rest, drink fluids and manage your fever.
As of January 22, the World Health Organization (WHO) has released an official statement that "the event did not constitute a PHEIC (Public Health Emergency of International Concern) but the Committee members agreed on the urgency of the situation and suggested that the Committee should be reconvened in a matter of days to examine the situation further."
For reference, let's take a look at the Wuhan coronavirus as it compares to three cases you are probably somewhat familiar with already: SARS, MERS and the flu.
Wuhan Coronavirus (2019-nCoV)
The Wuhan Coronavirus was first documented in December and is believed to have originated at a wet market. A coronavirus is a family of viruses that can cause the common cold and other more serious illnesses (see below). The Wuhan Coronavirus currently has 5,997 confirmed cases and 132 deaths at the time of writing, as reported by DingXiangYuan.
SARS (Severe Acute Respiratory Syndrome)
Many of you might remember the SARS outbreak in 2003. It is believed to have originated from bats and was first reported in Asia. SARS was caused by a coronavirus, and according to the CDC, 8,427 people worldwide became ill with SARS, with 813 resulting deaths. Fortunately, no cases of SARS have been reported since 2004.
MERS (Middle East Respiratory Syndrome)
MERS was another illness caused by a coronavirus, first reported in the Arabian Peninsula in 2012. 2,494 cases have been documented as of 2019, with 858 associated deaths.
The Flu
The flu is caused by influenza viruses, and according to WHO, is estimated to result in 3 to 5 million cases of severe illness and 290,000 to 650,000 respiratory deaths each year. While recovery generally takes from a few days up to two weeks, there can be complications that arise from it, one of the most serious being pneumonia.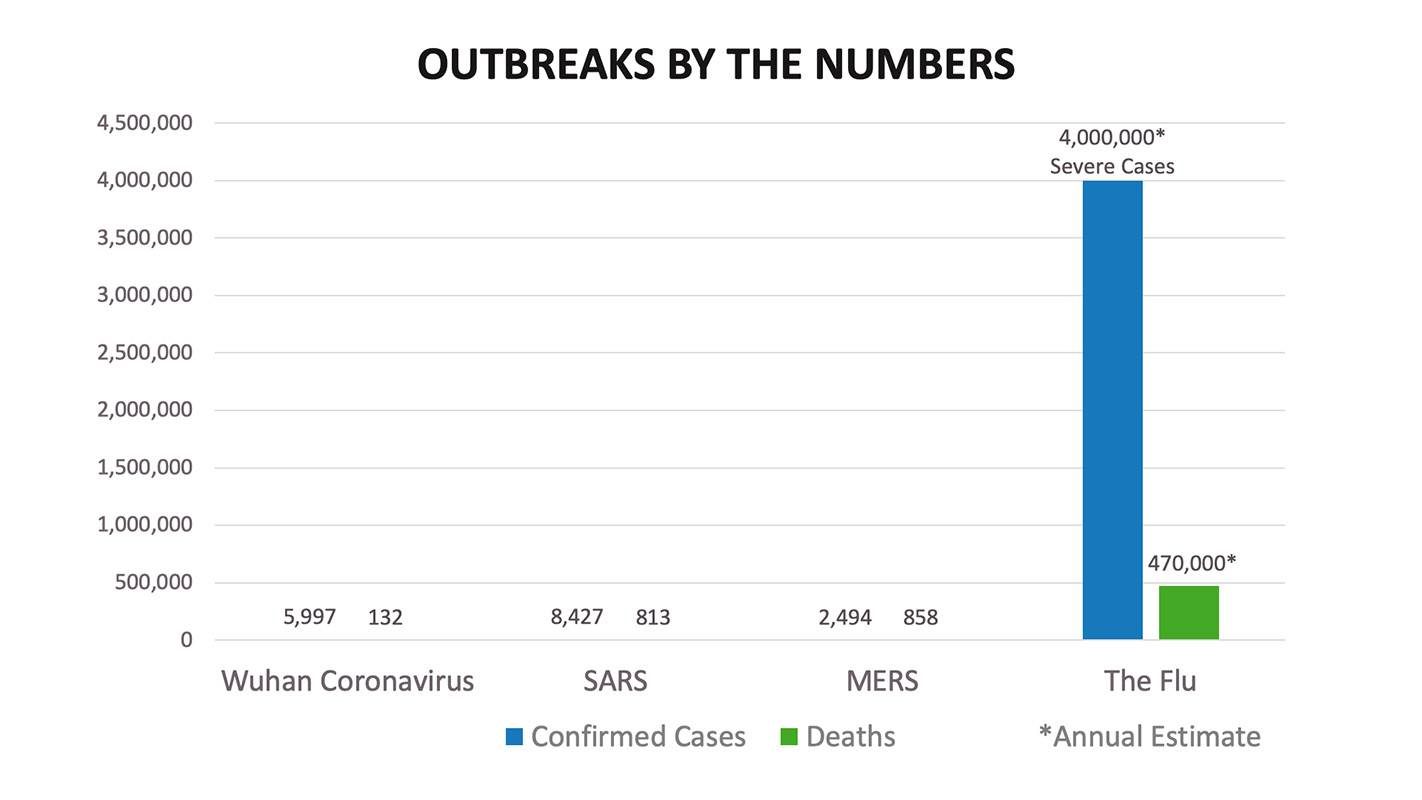 Taking these figures into consideration can hopefully ease some of the anxiety experienced by the people that currently remain in China.
Of the people that have died as a result of contracting the coronavirus, the majority have been above the age of 40 and have had underlying conditions that compromised their immune systems. What is concerning at this time is that the virus is unpredictable and can be transmitted from one person to another, although the extent remains unclear.
Doctors generally advise washing your hands often, wearing masks in public places, keeping warm and staying hydrated by drinking plenty of water. By taking the necessary precautions, it is believed you can drastically lower chances of contracting the virus.
We've listed several protective products below that we have verified are in stock and shipping throughout the holiday. Your pals at Baopals wish you a safe and prosperous Chinese New Year! Baopals will continue operations as usual throughout the extended public holiday.