Namaste! (or "Greetings" in Hindi). In our World Series, we profile 15 products from a country that we think capture that nation's culture and lifestyle. Today we are featuring India!
Different cultures, cuisines, languages, religions and much more make India a beautiful country united in its incredible diversity. People all over the globe love and relish Indian food, so we've found some great options available on Baopals. We've also found some beautiful traditional Indian style jewelry, henna you can put on your hands and feet, and much more. We are happy to bringing to you the flavors of India with beauty, warmth, and love.
Turmeric (Haldi) Powder, 100g
Turmeric, also known as haldi in Hindi, is used often in Indian cooking and has huge health benefits. It is also used in skin care, and as a remedy for coughs, colds, sore throats, etc.
Try making a Golden Latte with hot milk, one teaspoon of turmeric and sugar or honey. Enjoy it as a delicious drink and effective immunity booster. Turmeric ginger tea is another tasty, health-beneficial drink. Boil some water, add a pinch of turmeric and honey to your taste, and your tea is ready. Simply stir and drink, and feel the warmth settle in.
Fresh Mint Leaves, 500g
Fresh green mint leaves are known for their refreshing taste, as well as their ability to facilitate smooth digestion. Indian people often add mint leaves to milk tea and other refreshing drinks. A spicy green dip known as pudina chutney (which literally translates to: mint leaf sauce!) is also a common dip eaten with almost every hot Indian snack. The fresh green colour of the chutney looks beautiful, and the green chillies add a delicious spice.
Chicken Masala, 100g
Use this chicken masala to make a classic restaurant style Indian chicken curry, dry pan fried chicken, the much-loved tandoori chicken, and more. Even better, the masala doesn't have anything non-vegetarian, so all the vegetarians out there can use this as a spice mix to cook Indian style vegetable curries as well.
Chunky Chat Masala, 100g
This masala gives a tangy, slightly salty taste to salads or snack items when sprinkled on them. It's made up of an interesting mix of dry spices, including but not limited to coriander, cumin, rock salt, pepper and mint leaves. Sprinkle it on top of any boiled vegetables to add flavor to your meal.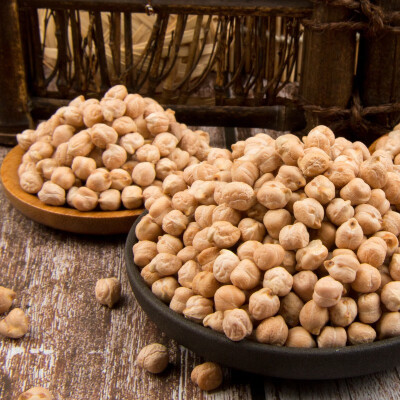 Dried Chickpeas, 1kg
Garbanzo beans are also known as chickpeas in English, and chole in Hindi. Try making a very famous dish from India known as Chole Bhature. These beans are used to make chole - a spicy, tangy curry. These beans are also used to make hummus.
Aloo Bhujia
A very popular, ready to eat tea time snack – almost as popular as potato chips are with your kids! This snack, with a base of fried, crunchy potato noodles and with a light coat of spicy, tangy Indian flavoring will be an instant favourite.
Besan Chickpea Flour, 1kg
Pakodas and bhajiyas, or deep-fried vegetable fritters, are a mouth-watering snack from India enjoyed everywhere from Central India to North. The batter for these popular snacks, as well as countless others, is made with besan!
Jhumka Earrings
These traditional style earrings are known as "jhumkas", and can go well with traditional Indian clothes, but also complement the simple jeans and t-shirt combo present in everyone's closet.
Bindi
A bindi is a colored dot that Indian women apply on the forehead. In modern days, it has become normal to use stick-on versions as they come in different colours, shapes, sizes and have other decorative elements. Earlier in Indian culture, the bindi was also the symbol of a married woman, who would have to wear a red bindi all her life. However, in modern times most families do not believe in these traditions and bindis have thus become more of a decorative item than a symbol.
India Imported Wooden Jewelry Box
Keep your precious possessions in a beautiful handmade jewellery box, decorated with lovely traditional designs and artwork. Also makes for a lovely gift for your loved one!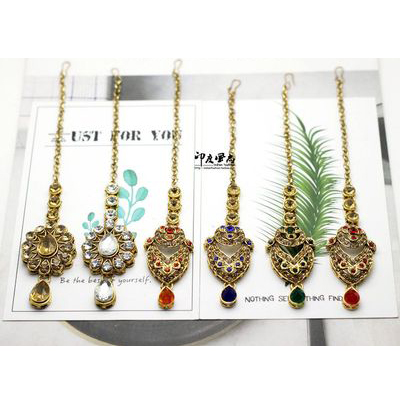 Teeka Bridal Headdress
This beautiful piece of jewellery is worn on the head by parting your hair in the center and wearing it down to the forehead. Nowadays, these are commonly seen adorning women's heads at weddings and festivals, not to mention, in Bollywood movies too. Find a full bridal jewelry set here.
Henna Paste, 25g & Stencils
Henna, also called mehendi, is a plant-based paste which can stain your skin with dark brown colour temporarily. It is very commonly used in India as a way to draw temporary tattoos on the hands and feet. People all over the world love henna tattoos now, and you can make your own designs or use a stencil.
Copper Thali Plate
Throughout India, but particularly in Central India, people eat food in a thali plate. The small dish is used for the staple rice or flatbread, and multiple bowls are used for different curries, vegetables, salad and even the dessert. They all fit in one plate. This is used mainly for special occasions. Find more copper tableware here.
Incense Sticks
Incense sticks are used as part of prayers in the average Indian household. They fill the home with rich fragrance and positive energy. The incense sticks come in different fragrances, which you can choose according to your liking. We personally recommend rose, sandalwood, and jasmine. Find incense stick holders here.
Mandala Printed Tapestry
A round colourful printed table cloth with traditional Indian patterns, symmetrical and beautiful to the eye.
Guest blogger Vinita Patil lives in Shenzhen with her husband, daughter and son. She is a homemaker and enjoys writing in her free time. Her other hobbies include listening to music, reading, and cooking.