A complete outfit for under 250 RMB? It might sound unbelievable, but we tested it out for ourselves on 4 Baopals employees. Check out 4 stylish looks our team put together, all for the same price a single item of clothing might cost you back in your home country!
Jay
Co-Founder & Head of Product Development
Hometown: Sydney, Australia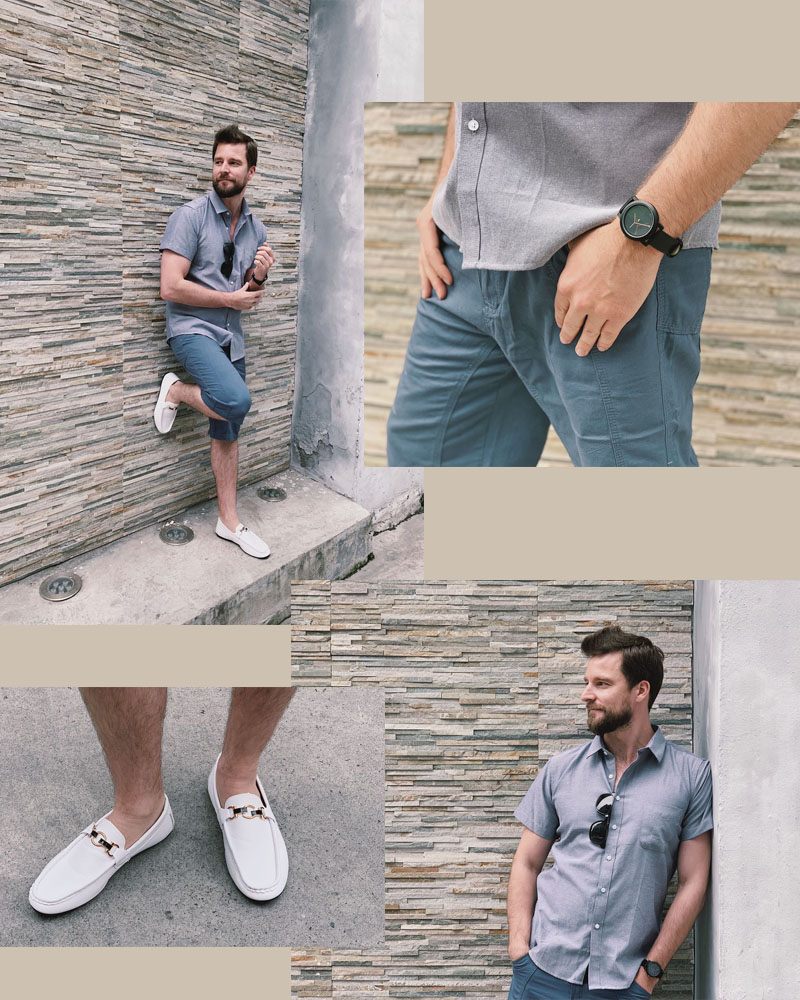 Lightweight Polarized Sunglasses
I usually have trouble finding sunglasses to fit my smaller face, but these seem to be a great fit. They're lightweight but sturdy enough and are now my go-to pair.
Knee-Length Cotton Shorts
The shorts are a bit longer than I'd usually wear, but if the Baopals resident stylist thinks they look good, who am I to argue? The pockets are a little tight; that'll keep things from falling out at least. Fine addition to the wardrobe.
Faux Leather Slip-Ons
Ehhh these shoes just aren't my jam. Maybe I'm not hip enough. One thing too is that the soles were flimsy and not firmly attached to inside of the shoes, so they were folding up a bit when I put the shoes on. The only part of the outfit that I won't be wearing regularly.
Short-Sleeved Button Up Shirt
I dig it! Slim fit, the fabric feels nice, not too thin and still wearable in warm weather. A few threads sticking out on the buttons to snip off, and then it was good to wear.
Ginger
Digital Content Manager
Hometown: Fremont, California
Vintage Woven Bag
This bag was really good quality for the price and came with a cute little scarf. It can be closed inside so none of your stuff comes out. I'll definitely use this again.
Summer V-Neck Floral Dress
I don't usually wear this type of bright color/pattern so it's a nice change from my regular style. The material is soft and light, perfect for summer.
Cat Eye Sunglasses
I like these sunglasses a lot! They are cute and fun, and usually sunglasses look too big on my face but these are dainty enough.
Women's Summer Sandals
The shoes are a bit loose on me, but if you have wider feet I think they would make a nice summer shoe.
Charlie
Co-Founder & Head of Business Development
Hometown: Rugby, Tennessee
Casual Big & Tall Trousers
They look and feel good. Although the material reminds of something a tent would be made out of...
Men's Large-Size White Sneakers
It has the word FASHION emblazoned in gold lettering on the tongue of the shoe. If that's not high fashion, then I don't know what is.
Lela
Digital Content Creator/Junior Designer
Hometown: Hanoi, Vietnam
Women's Chunky Shoes
Way better than I expected for shoes this price. The form is perfect, but be sure to order 2 sizes up from your regular size.
Printed Crop Top Blouse
It's a bit hard to iron this shirt, but other than that I have nothing to complain about.
Bermuda Jean Shorts
I thought bermuda shorts might make me look short since I'm only 155cm. But I was wrong. It fit very well on me and actually made my legs look longer. These will be my favorite shorts for spring and summer!